Monday marked the beginning of USA's journey for the World Cup. Attendance  for the Sporting Kansas City watch party was record breaking with more than 5,000 fans cheering on team USA in a sea of red, white and blue!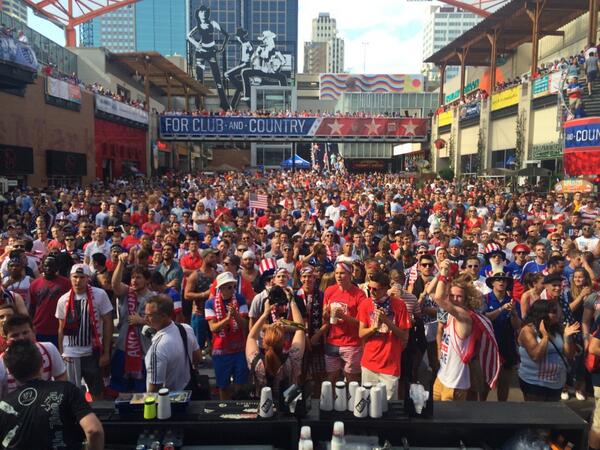 Seconds after kick-off, Clint Dempsey scored the first goal for team USA, setting off the first confetti canons, filling KC Live! with blue confetti. The energy in KC Live! was unreal!
The energy inside KC Live! grew as the game continued. Tensions were high after Ghana's first goal.  Finally (after what seemed like the longest 4 minutes ever) John Brooks scored putting team USA ahead 2-1 and the crowd went wild!
(Photo credit: Daniel R Welch)
The game ended with a victory for team USA! The party continued hours after the win – It was a proud day to be an American!
Don't miss the next US Watch Party with Sporting KC on Sunday, June 22nd in KC Live! (Let's hope the game is as much fun as Monday's was!)